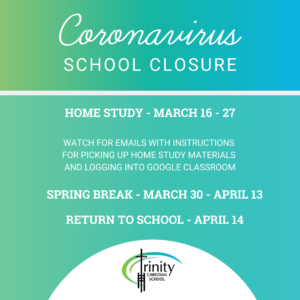 San Diego County has declared a local and public health emergency in response to COVID-19, and the San Diego Center for Disease Control has moved into the phase of limiting community spread, which involves protecting our school communities. For this reason, California's largest districts and most schools in San Diego, have made the decision to close temporarily.
We have no information indicating that we have, or have had, any individual infected with the coronavirus on our campus.  However, out of an abundance of caution, we have had to make the decision to have students not attend school on campus temporarily beginning Monday, March 16th
Thankfully, we have a contingency plan for students that will allow them to continue receiving a Christian education with their teacher.  This will be accomplished with the help of some online tools and packets of work that can be completed at home. For the Home Study days (March 16th-27th) we will be using "Google Classroom" online which will allow assignments to be posted and for parents to keep in touch with their child's teacher.  More information about how to access your child's Google Classroom online will be sent to you on Monday, March 16th. Teachers are also preparing packets of work for students in the younger grades that can be picked up at school between 2:00 pm – 4:00 pm on Monday, March 16th. Watch for an email from your child's teacher if you will need to pick up a packet of work on Monday. If you have a middle school student you may need to come pick up textbooks on Monday from 2:00 pm – 4:00 pm if they did not bring them all home on Friday.
Thank you for your support for our staff and school as we work through this together.  We have a strong community and we trust that you will reach out to each other during this difficult time. The office will be open from March 16th – 27th during our regularly scheduled hours if you have any questions or concerns.  The office will remain open as long as this is permitted/recommended by the CDC. We realize that this could be a challenging time for you and we will continue to pray for God's guidance in how we can support you and your family.
Important dates:
March 16th – March 27th will be Home Study days using Google Classroom
March 30th – April 13th Easter Break
We will return to school on TUESDAY, April 14th.  We are returning on Tuesday so that families do not have to travel on Easter.
"For God gave us a spirit not of fear but of power and love and self-control." 2 Timothy 1:7
Sharon Axe, Co-Principal
Jimmie Drummond, Co-Principal